"Like as a father pitieth his children, so the LORD pitieth them that fear him."Psalm 103:13
The stress-pot within me was boiling over again. I was holding my nine week-old baby against me trying to get her to eat. I knew she was hungry, but no matter how many times I offered her milk to her, she wouldn't take it. In fact, she was raging mad every time I tried to offer the milk.
What can be wrong? I'm sure she is hungry because it's time to eat. So why won't she just take the milk!? Maybe it's her tummy…. Did I somehow hurt her?! I just don't know! My husband was being very sweet to come and help me. He would take her and try to calm her down while I took a moment to pull myself together. She would finally calm down for a minute and we would quickly try again to give her the milk, but to no avail. She would scream with it in her mouth, but just would not drink. Yet, she would also exhibit the baby-rooting action like she really wanted it, but again, she'd only scream in rage when I gave it to her.
It truly was heart-breaking to watch and would bring tears to my eyes. I knew this is what she needed and actually what she wanted, BUT SHE JUST WOULDN'T TAKE IT! It felt like she didn't think she needed me. The truth of the matter was she was over-tired and hungry and just being a baby. She didn't understand or realize that I was trying to help her. All she knew is she wanted what she wanted and it didn't seem she was getting it the way she wanted.
Well, after a while of repeating this process of calming down, trying again, and screaming, she finally was drinking her milk. (sigh of relief) The burner was turned off and the stress-pot inside me could finally simmer down and cool. As she was gulping her milk down in hunger, I began to think of how I, as her mother, was trying to help her and it seemed like she was refusing my help all the while screaming for my help. Then I thought, "Don't we do this to God, too? Don't we cry for His help all the while refusing it at the same time? Hmmmm….." 
There are so many parallels here. My baby girl couldn't understand that I was giving her exactly what she needed, if only she'd receive it. How often do we cry in frustration and anger wondering why God won't answer our pleas for help all the while He is offering the very help we need?
Just like my baby, we don't calm down enough to see the help staring us right in the face. All we see is the circumstances we're currently in, and they aren't what we want. We want what we want and it has to be done in the way we think it ought to be done. We grieve God's heart the same way my heart was grieved at watching my baby cry and cry in desperation. She didn't have to be in that state and neither do we. God always gives us what we need!
"Or what man is there of you, whom if his son ask bread, will he give him a stone? Or if he ask a fish, will he give him a serpent? If ye then, being evil, know how to give good gifts unto your children, how much more shall your Father which is in heaven give good things to them that ask him?"Matthew 7:9-11
"If a son shall ask bread of any of you that is a father, will he give him a stone? or if he ask a fish, will he for a fish give him a serpent? Or if he shall ask an egg, will he offer him a scorpion? If ye then, being evil, know how to give good gifts unto your children: how much more shall your heavenly Father give the Holy Spirit to them that ask him?"Luke 11:11-13
The next time you find yourself crying over your current circumstances and it doesn't seem like God is helping you, STOP! Realize He is helping you and receive it. God will never leave us nor forsake us. God is always near because He's everywhere. His Spirit is within us offering up the verses of encouragement to remind us it's ok, He's in control. God is our Refuge and Strength, our Very Present Help in times of trouble.
We have to get our eyes on Him and see that He is really there. God's way of helping doesn't usually seem like it is help at first to our fleshly eyes, but His way is always best! It's truly what we need, even though it may not always be what we want. God always works in a way that is glorifying to His Name and is for our good!
"But my God shall supply all your need according to his riches in glory by Christ Jesus."Philippians 4:19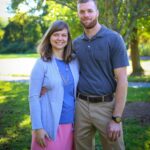 Megan was born and raised in mid-Missouri in a Christian home. At the age of 16, she accepted Christ as her Lord and Savior and has been growing in Him ever since! Megan moved out to Pennsylvania in 2017 after she met and married the man of her dreams, Samuel Hammett. She is currently serving alongside him at LVBC. God is growing and stretching her as she learns God's purpose for her in this stage of life. Read my story here.