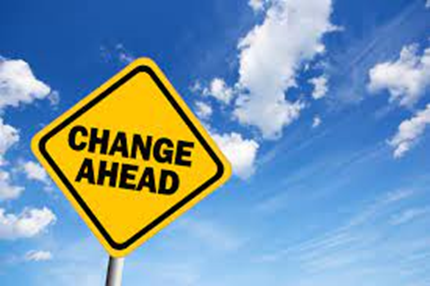 "To everything there is a season, and a time to every purpose under the heaven: A time to be born, and a time to die; a time to plant, and a time to pluck up that which is planted; A time to kill, and a time to heal; a time to break down, and a time to build up; A time to weep, and a time to laugh; a time to mourn, and a time to dance; A time to cast away stones, and a time to gather stones together; a time to embrace, and a time to refrain from embracing; A time to get, and a time to lose; a time to keep, and a time to cast away; A time to rend, and a time to sew; a time of war, and a time of peace."Ecclesiastes 3:1-8
A brand, new year as homemakers has come upon us! Or I should rather say, that God has given us. This year is a new year, we've never traversed these waters as a homemaker before. Things are different than last year, and I'm not just talking about this crazy world's changes. You've changed. You are older than you were last year. You might even look a little different this year as you age, or if you're eight months pregnant like me! Your children also have changed, they're growing and changing much faster than you! Your husband has changed as well. We ALL have changed. The events, the experiences, the trials, the tribulations, the joys, the successes of the previous year have all changed us just a bit, some more than others.
Change can be either good or bad depending on how YOU allow it to affect you. How you've changed is a product of the choices YOU made during and after those changing circumstances. A lot of people have this grand list of goals—changes—for this new year that they want to implement in their lives. That's not a bad thing, unless it's yielding a wrong result, then you need to change that change, if you understand my meaning. I honestly didn't make a huge, grandiose list of goals this year. I kind of did that last year and didn't hardly keep up with them. That doesn't mean that I can't do better in being disciplined, but that maybe I need to change my approach of making a list of goals.
My list for this year is smaller and probably more attainable than last year's. I think I set myself up for failure last year by having too many things. We can have goals, and we should, but I think we need to look at them the way God does. We tend to look at all the things we need to work on or fix to be what we think we should be as a wife, mother, teacher, etc. But God only shows us step-by-step what we can handle at a time. "The steps of a good man are ordered by the LORD: and he delighteth in his way." Psalm 37:23. It doesn't say the 'path' or 'road,' just the steps. God doesn't overwhelm us with all we need to fix right now—and He even sees the things we miss!
<
We shouldn't overwhelm ourselves either by looking at all the failures and issues we have and trying to fix them all at once. We bog ourselves down and actually become so focused on all these things that we miss what God has for us if we would instead rely on Him. "Being confident of this very thing, that he which hath begun a good work in you will perform it until the day of Jesus Christ:" Philippians 1:6. This verse doesn't say that God 'did' or 'finished' a good work in you, but that He "hath begun a good work in you."
The beginning of this work was at salvation. When you got saved, there should've definitely been a change in you, and if not, maybe you need to examine your profession and ask God to show you. We all know that once we accepted Christ there wasn't some magical wand waved over us and we became a perfect Christian always obeying and doing what's right. No, most definitely not. Now, that should be a constant, daily goal of ours, but we know we still wrestle with that old fleshly, sinful nature. There ought to be a marked change, though, from your life today compared to what your life looked like back at salvation. God has been working on you ever since you surrendered your heart to Him. He's been chipping away and purging you each day to become more like Christ. God does that by showing you this pet sin you need to confess, repent, and turn from.
Next, He shows you that hobby you need to get rid of that isn't a bad or sinful thing to be doing, but it's hindering your walk with Him. Then He shows you that you need to add this thing or start doing this in your life. All, thankfully, one step at a time. God helps you focus on one thing to get victory over before He shows you the next thing. That's His mercy and love! Dumping the whole basket of issues on us would just discourage us as we try to look at this problem for awhile but then see that problem over there and try to fix it, too. God is here to help us and encourage us. It's so encouraging when you see those victories all along the way!
"The LORD is my shepherd; I shall not want. He maketh me to lie down in green pastures: he leadeth me beside the still waters. He restoreth my soul: he leadeth me in the paths of righteousness for his name's sake. Yea, though I walk through the valley of the shadow of death, I will fear no evil: for thou art with me; thy rod and thy staff they comfort me. Thou preparest a table before me in the presence of mine enemies: thou anointest my head with oil; my cup runneth over. Surely goodness and mercy shall follow me all the days of my life: and I will dwell in the house of the LORD for ever."Psalm 23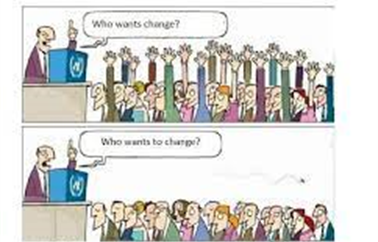 You've seen those political signs that people put up in their yard that say, "KEEP THE CHANGE!" Well, sorry buddy, change is inevitable. Now I know what they're meaning. They don't like the new candidate's ideas for our country if they get into office, etc. But it still is change even if the candidate that goes into office keeps the previous laws in place. It's still going to be a new person, a new personality in charge. This goes to show that a lot of us just don't like change.

But then there's also those who can't wait for change. Some of us are more routine oriented and don't like that being messed with at all, but for the other side, they need change to keep life interesting. Even though God made us all differently, we each know that life brings constant change. If we didn't have change, our lives would consist of monotonous boredom.

Even for those change-dislikers, if they didn't have change, they would be very sad. Something's wrong if there is no evident change. Think about it. Something's wrong if your child stays the same size all his life. You WANT him to change, to grow up, to feed himself, to get a job, have a family, etc. Change is good!

It's the same in the spiritual realm as well--something is wrong if you never grow in the Lord. God is seeking to bring about in us good change if we let Him. When we resist and decide to do our own thing, we bring about devastating change. And sometimes we're changed and scarred forever by those choices. Thankfully, God can still take our scarred lives and change us into His image.

But why would we resist God's changing us when He only brings about good change? Because we don't see the big picture like God does. We get so focused on what's happening right in front of us and we don't like it so we push back. We look at the looming trial before us and think, "How can this be a good thing?!" Instead, we need to take a step back and see that God is bigger than our problem and He's in control. Then we need to yield to what He is trying to work and bring about in us through this trial. Remember, our idea of 'good' change is never the best for us. God knows all things. He knows what's best for us!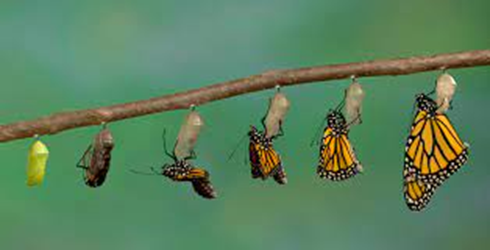 My challenge to you is to accept the changes that God is making in your life. Resisting and fighting only brings about misery, because you can't stop the inevitable. Change is a part of life. You need to change because you're not perfect. God is perfect. He NEVER changes! And because He never changes, we can trust that whatever He is doing in our lives is always for our good and for His glory. Let God work His good-changing work in you!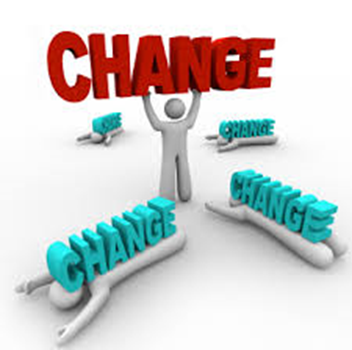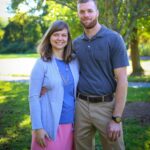 Megan was born and raised in mid-Missouri in a Christian home. At the age of 16, she accepted Christ as her Lord and Savior and has been growing in Him ever since! Megan moved out to Pennsylvania in 2017 after she met and married the man of her dreams, Samuel Hammett. She is currently serving alongside him at LVBC. God is growing and stretching her as she learns God's purpose for her in this stage of life. Read my story here.