"Let your conversation be without covetousness; and be content with such things as ye have: for he hath said, I will never leave thee, nor forsake thee. So that we may boldly say, The Lord is my helper, and I will not fear what man shall do unto me."Hebrews 13:5-6
Contentment. There's that word again. A word we often seem to know everything about, but a word we often have such a hard time putting into practice. Sigh. Well, let's do it again, let's look at what it means to be content. Webster's says, "Literally, held, contained within limits; hence, quiet; not disturbed; having a mind at peace; easy; satisfied, so as not to repine, object, or oppose." Being content is not complaining and objecting to our current circumstances of life. Being content is holding our thoughts, words, and actions within the limits of thankfulness. This perspective produces a quiet spirit and a mind that is at peace because we know and trust that God is at work in our circumstances.
Oh, why is contentment so hard?! Because our natural man is prone to covetousness. According to Webster's, covetousness is "A strong or inordinate desire of obtaining and possessing some supposed good; usually in a bad sense, and applied to an inordinate desire of wealth or avarice." This definition brings to light the serious dangers of covetousness. It says covetousness is an "inordinate desire" twice. So, to describe covetousness played out in someone's life is like a person having a passion of gaining this thing that supposedly will bring them happiness and it's so excessive that they are willing to act in an irregular and disorderly manner to obtain it. They literally will go beyond common sense to get what they want, battering down anyone who gets in their way. Wow, pretty serious, and if allowed in our lives, there will be severe damage to clean up afterwards.
So how does this apply to us as homemakers? Well, you are a homemaker of your home and I am a homemaker of my home. None of us are homemakers of the same home. God gave each of us different houses, different husbands, different children, different circumstances, different locations, etc., but the same role of being a homemaker. Comparing my lot to your lot can bring about discontentment and covetousness in my life. Paul says in 2 Corinthians 10:12, "…but they measuring themselves by themselves, and comparing themselves among themselves, are not wise." The way you run your home is not the standard of how I should run my home. Our Standard is actually the same even though our homes are different. How we all as homemakers should run our homes is according to what God has said in His Word.
Even then, the execution will look different even though the results will be the same, because God didn't make us all cloned robots. He designed each of us with a different personality and purpose so therefore our circumstances as homemakers will be different. It's so easy to look at others and think they have it all put together, but the truth is they don't. You just may be honing in on one specific thing in their lives that they seem to have down and you seem to be failing miserably at. The fact of the matter is they are probably looking at your life and thinking the same thing about something you have mastered and they are falling short of. We don't see the big picture or what goes on behind the scenes like God does. That's why our focus should be on what He desires us to be individually as homemakers.
Be careful you don't complain to God about your lot in life versus someone else's. "Shall the axe boast itself against him that heweth therewith? or shall the saw magnify itself against him that shaketh it? as if the rod should shake itself against them that lift it up, or as if the staff should lift up itself, as if it were no wood." Isaiah 10:15 We have here an axe, a saw, a rod, and a staff, all tools with different jobs. The axe and the saw fall into a similar category while the rod and staff fall into different, but similar, category. The axe is used to chop the tree down and the saw is used to cut the tree into manageable pieces. The rod is used for punishment or protection and the staff is used for correction and rebuke. But the all-encompassing similarity of each of these tools is that they can do nothing of themselves. There must be someone behind each of them so they can perform the job they were designed for. The axe needs someone to swing it, the saw needs someone to push it, the rod needs someone to shake it, and the staff needs someone to lift it up. Otherwise, they all would just be laying around with no ability to raise themselves up for the task at hand. God is The Someone behind each different tool. God is The Someone behind each different homemaker. His power overshadows us and gives us the Divine ability to do what we were designed to do!
There's another branch that grows off this trunk of contentment and that is learning to be content while waiting. Oh, boy, a word we don't like—wait. Patience is a key part in being content, though. James 1:2-4 says, "My brethren, count it all joy when ye fall into divers temptations; Knowing this, that the trying of your faith worketh patience. But let patience have her perfect work, that ye may be perfect and entire, wanting nothing." According to these verses, I shouldn't be trying to avoid patience or seeking to get out of it, but instead I am to "let" or allow it to work in me. Patience is enduring without discontentment and persevering with hope. I need to allow God to work patience in my life and work alongside Him with the right perspective to produce His desired effect in me. The word "entire" in the last verse means, "Whole; undivided; unbroken; complete in its parts." This time of patience and waiting is for my good to grow me spiritually and bring me to a place of completeness in God. When I am complete in God nothing is missing from my life, I have everything I need in Him.
"Better is an handful with quietness, than both the hands full with travail and vexation of spirit."Ecclesiastes 4:6
"Better is a dinner of herbs where love is, than a stalled ox and hatred therewith."Proverbs 15:17
"It is better to dwell in a corner of the housetop, than with a brawling woman in a wide house."Proverbs 21:9
So how can a homemaker in a one-room shack be just as content as a homemaker in a three-story mansion? It's because they both have "…learned in whatsoever state…therewith to be content." Philippians 4:11c. Jesus said in Luke 12:15, "…Take heed, and beware of covetousness: for a man's life consisteth not in the abundance of the things which he possesseth." It's not really all about how big of a house you have or what amenities fill those chambers. It's all in the heart. To be rich in God's eyes is to be content with what He has given you. "But godliness with contentment is great gain." I Timothy 6:6. To be truly rich is realizing what you have is enough, you need nothing else to make you happy and content. Let's learn to be content with what God has given us, especially through those trying times of patience!
The dewdrop, as the boundless sea,
In God's great place has part;
And this is all He asks of thee;
Be faithful where thou art.

In thee His mighty hand can show
The wonders of His grace,
And He can make the humblest room
A high and holy place.

Thy life can know the blessedness
Of resting in His will;
His fulness flows unceasingly
Thy cup of need to fill.

His strength upon thy weakness waits,
His power for the task.
What more, O child of all His care,
Could any great one ask?
("In a Small Place" poem by Annie Johnson Flint.
These Scriptures are listed with it: I Corinthians 4:2 and Luke 16:10-11)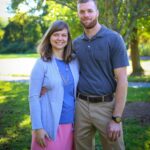 Megan was born and raised in mid-Missouri in a Christian home. At the age of 16, she accepted Christ as her Lord and Savior and has been growing in Him ever since! Megan moved out to Pennsylvania in 2017 after she met and married the man of her dreams, Samuel Hammett. She is currently serving alongside him at LVBC. God is growing and stretching her as she learns God's purpose for her in this stage of life. Read my story here.