"Every good gift and every perfect gift is from above, and cometh down from the Father of lights, with whom is no variableness, neither shadow of turning."James 1:17
I'm sitting in this chair once again. The same chair that I have sat in for several days now. It's not a fancy chair by any means. No, it actually has a rip in the left arm, scuffing over its entirety, as well as a pin-cushioned smiley face that I'm sure a child had fun creating. This chair, though rather worn and used by its previous owners, has now become a special chair of mine. Would you like to know why? This chair was actually a sort of gift from my husband—a chair that he so sweetly admitted he spent more on than he normally would've considering its condition—just so I could sit with him at his side jobs and be able to put my foot up. (For those readers who did not know: I broke my ankle in February, had surgery in March, and am now doing physical therapy until I can start putting weight on it again, which isn't until May.) It is in this chair that I have been able to do some uninterrupted reading which has resulted in some heart-pricking, some heart-cry texts, some heart-felt tears, and some heart-soothing encouragement. Oh, it's been so good! I would like to share with you in the next few paragraphs what God has been teaching me.
"Life loses focus without any effort, determination, or decision on our part. The process of living, day in and day out, tends to dilute and divert focus. We become so busy that we have no time to consider how we live. Plato said the unexamined life is a life not worth living."(Taken from the book Calm My Anxious Heart by Linda Dillow, quote from pg. 95 under the chapter A Faulty Focus, a quote she quoted from the book Between Walden and the Whirlwind: The Key to an Overwhelming World by Jean Fleming)
To begin, I would first like to mention how my thoughts have drifted during this down time to the previous articles I have written this year:" Keepers At Home" and "Are You a Builder or a Plucker?" Sitting on my couch at home putting my leg up to keep the swelling down has interrupted a lot of daily, minuscule, mundane tasks of being a homemaker. The simple chore of starting a load of laundry has turned into a slow, balancing act with my basket on my knee scooter. And if I forgot a garment, I can't just run down the hallway quick to grab it. Straightening up the house, dusting, and vacuuming have all become more effort-exerting than ever before. (I start sweating more easily these days!) How can I stay on top of all these jobs and be building up my home?! The answer is still the same even though the executing of it might look a little different. God didn't say that I'm exempt from being a keeper and builder of my home just because I have a broken ankle—or any other limitation for that matter! Did you notice that word?—Limitation. Uh-huh. Did you know that God gave me that limitation? Did you know that, like stated in the verse above, God only gives good and perfect gifts?
OR
"Too often in our lives, accomplishment and doing overshadow growth and becoming." (Calm My Anxious Heart by Linda Dillow, quote from pg. 42 under the chapter Content to Be Me)
Let's take a closer look at James 1:17 and define some words.
Every—"all; the whole"
Good—"benefit; good things"
Gift—"a giving"
Perfect—"complete (in various applications of labor, growth, mental and moral character, etc.)"
Gift—"a bestowment"

The entire store of gifts God has laid up for me are all beneficial. Everything God intends to give me is good for me. But there's another gift mentioned here… a "perfect gift." Hmm. God had James distinctly write two different types of gifts. My first thought has always been that he was just repeating himself for added emphasis that all encompasses "good" gifts. An interesting note is that both written words "gift" in this verse actually both have a slightly differing meaning. The first one, as seen above in the definitions, means "a giving" while the second one means "a bestowment." Very similar meanings, but there's a deeper thought here. I always thought that whatever God gives is good. My thoughts: "A broken ankle is a good thing… My broken ankle is a GOOD thing….. My broken ankle is a GOOD THING!" Now, this is a true statement in a way because we know God has a purpose and He works all things for good. But God specifically mentions here a "good" AND "perfect" gift. Why? God gives blessings which are always good because, "The blessing of the LORD, it maketh rich, and he addeth no sorrow with it." Proverbs 10:22. So, if a good gift is a "good gift," then what is a "perfect gift?" Let's look at the definitions again. The word "perfect" means, "complete (in various applications of labor, growth, mental and moral character, etc.)" And the second listed word of "gift" means, "a bestowment." Couldn't we rightly deduce then that a "perfect gift" is one that we didn't ask for but one that God places upon us for the purpose of spiritual growth and character? A gift that will bring about in us an image more and more to that of Jesus Christ. A gift that draws us ever closer to that complete state of perfection in Christ. Our first impression of this kind of gift is that it is a bad gift. But remember, God doesn't give evil gifts, only "good and perfect" gifts. My thoughts now: "My broken ankle is a PERFECT GIFT!" And when you are given a gift, you are to be thankful for it, right? "In everything give thanks: for this is the will of God in Christ Jesus concerning you." I Thessalonians 5:18.
"…we need to be sure we don't use our limitations as an excuse not to serve God. You need to learn to thank God for the limitations He has placed in your life, and ask for wisdom to know how to serve Him in spite of the limitations." (Challenges of a Homemaker by Beverly Hammett, quote from pg. 47 under the chapter, Two Questions)
God has a purpose and a plan for each and every person, but those purposes and plans are quite different for each individual. I was reading in Psalm 139 the other day and came across this verse, "Thine eyes did see my substance, yet being unperfect; and in thy book all my members were written, which in continuance were fashioned, when as yet there was none of them." (verse 16) I wonder if God just went ahead and wrote down on my page three metal plates and 22+ screws! My body is God's and He can do with it as He pleases. "What? know ye not that your body is the temple of the Holy Ghost which is in you, which ye have of God, and ye are not your own? For ye are bought with a price: therefore glorify God in your body, and in your spirit, which are God's." I Corinthians 6:19-20. Paul didn't say here to glorify God with my body only if it's fully functional. No, but to glorify God with my body—period. Limitations, handicaps, flaws, birthmarks, moles, pimples, scars, scrapes, bumps, bruises, and all!
"My grace is sufficient for thee, for my strength is made perfect in weakness. Most gladly therefore will I rather glory in my infirmities, that the power of Christ may rest upon me. Therefore I take pleasure in infirmities… for when I am weak, then am I strong." (2 Corinthians 12:8-10) Paul accepted his limitations because he knew his life would be a living demonstration of Christ's power rather than his own power or abilities. He was able to go on and serve God without restriction." (Challenges of a Homemaker by Beverly Hammett, quote from pg. 46 under the chapter, Two Questions)
Did you take notice of her last sentence? Paul was able to go on and serve God "without restriction" EVEN WITH the limitation! Wow. How? God. Just like the verse tells us, we can do so much more for God and bring Him so much more glory when we just accept the limitations He's given and let His mighty power work in and through us! Then we can sit back and say, "Look what God has done!"
"I seemed intended by the blessed providence of God that I should be blind all my life, and I thank Him for the dispensation. If perfect earthly sight were offered me tomorrow I would not accept it. I might not have sung hymns to the praise of God if I had been distracted by the beautiful and interesting things about me." Fanny Crosby
(taken from picture quotes.com)
"All of your abilities—and your disabilities—were created to fit the unique plan God has for you. No one can fulfill your purpose but you. And God's plan for you and His plan for me embrace far more than the events or circumstances that happen to us. They also embrace what God wants us to be and do and what He desires to do in and through us." (Calm My Anxious Heart by Linda Dillow, quote from pg. 38 under the chapter, Content to be Me)
So, I told you at the beginning that this special chair I'm sitting in was a place where some heart-wrenching tears were shed. This next quote and the thoughts that followed were the cause for them.
"God, don't let my pain be wasted. Use it to conform me to Your image. Use it to teach me how to be content." (Calm My Anxious Heart by Linda Dillow, quote from pg. 28 under the chapter, Content With Circumstances)
Wow, what a deep statement, "God, don't let my pain be wasted." This resonated with me, not to let my pain be wasted. My pain is real, my circumstances are real, but they're not there to waste my time. They can be if I let them, just as the Devil wants. Instead, it's something God has given me, something God has allowed all for the purpose of glorifying Him and for my good. My limitations are a gift! I am to thank God for EVERYTHING—including my limitations! But my heart cries, "This pain is interrupting my hopes, my dreams, my wants, my goals, my plans in life!" That's the issue isn't it? MY hopes, MY dreams, MY wants, MY goals, MY plans. They pale in comparison to God's higher ways and Divine purpose! I truly—deep down inside—don't want anything but what God has given me for He always gives me what is BEST! What about you? Are you willing to thank God for your limitations He has given you?
"They took away what should have been my eyes,
(But I remembered Milton's Paradise)
They took away what should have been my ears,
(Beethoven came and wiped away my tears)
They took away what should have been my tongue,
(But I had talked with God when I was young)
He would not let them take away my soul,
Possessing that, I still possess the whole." Helen Keller
(Taken from the book Calm My Anxious Heart by Linda Dillow, quote from pg. 40 under the chapter Content to Be Me, a quote from Draper's Book of Quotations for the Christian World by Edythe Draper)
It is within those "perfect gifts" that we find "good gifts" God gives that we wouldn't have ever experienced if we first hadn't accepted the bestowment of the "perfect gift." 
"…the LORD gave, and the LORD hath taken away; blessed be the name of the LORD." Job 1:21b
A special note to the readers: I recommend the book Calm My Anxious Heart by Linda Dillow but with a warning attached. It is a great book with many wonderful truths, but needs to be read with the proper Biblical understanding concerning Scripture context. The author likes to use different "versions" of the King James Bible to suit her topic. My warning to you then if you venture to read this great book is, as my former Pastor in MO would always say, "eat the meat and spit out the bones!" Thank you.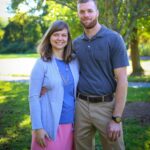 Megan was born and raised in mid-Missouri in a Christian home. At the age of 16, she accepted Christ as her Lord and Savior and has been growing in Him ever since! Megan moved out to Pennsylvania in 2017 after she met and married the man of her dreams, Samuel Hammett. She is currently serving alongside him at LVBC. God is growing and stretching her as she learns God's purpose for her in this stage of life. Read my story here.