"Every wise woman buildeth her house: but the foolish plucketh it down with her hands."Proverbs 14:1
I came across this verse two months back in my morning devotions. It was one that I chose to be my verse for the day, to meditate on and remember. This verse came up another time from a text from a friend, then once again in a book I had been reading, and now I choose to share it with you! In this verse King Solomon offers two opposing positions of a housewife: a wise woman and a foolish woman; a builder and a plucker. We can simply see that he is saying that a wise woman will build her house and a foolish woman will pluck her house down, or in other words, tear her house down. So, what do you think of when you hear the word pluck? I think of chickens getting their feathers plucked out. According to Webster's 1828 Dictionary the word 'pluck' means, "To pull with sudden force or effort, or to pull off, out or from, with a twitch." A further definition more appropriate to what we are talking about here is, "To pluck down, to pull down; to demolish; or to reduce to a lower state." This method of plucking a chicken can be done two ways, either by hand, which is a slower process or by scalding first then plucking off the feathers easily. But even before you start plucking, you should hang the chicken upside down. Then they say that it is best to start on the wings before doing the rest of the body. Now, I've never plucked a single chicken in my life, but I'm seeing so many parallels here with this idea of a woman/housewife plucking down her house. But before we delve any further into looking at the picture of the foolish, plucking woman, let's look at the definition of what it means to be a woman who is a wise builder. When we think of the word 'build,' immediately what comes to my mind is construction workers putting up a new building or house. Webster's says, "To frame, construct, and raise, as an edifice or fabric of almost any kind, as a house, barn, shop, ship or vessel, a wall, or other structure of art; to unite materials into a regular structure for use or convenience." Again, Webster's has another definition more suited to our topic, "In Scripture, to increase and strengthen; to cement and knit together; to settle or establish and preserve." To be any good in the field of construction work, you have to know what you're doing. Meaning, you have to have a plan you're following, you have to understand the proper way of building, you have to know how to use your tools, etc. Just deciding to be a builder without the proper education is only going to cause frustration down the road for you, as well as the client. There must be time spent drawing up a blueprint prior to the first board ever being nailed, or even before the foundation is laid.
Now that we have some definitions and understanding of what a builder and a plucker are, let's take a closer look at the parallels they offer to a housewife—the very keeper of her home. Let's begin with the foolish, plucking woman. We first must start by pointing out this mind-blowing, crazy notion that we are claiming the plucking woman is exploiting, keeping in mind the above illustration of plucking a chicken. What woman in her right mind would be actively pulling down the very walls of her own house?! Ripping out gaping holes that let freezing, cold air in; that allow the rain to soak into things; that invite bugs inside and gives them free reign—let alone other furry animals?! Who would do such a thing?! Remember, plucking is purposeful and to the detriment of the object being plucked. The thunder can be heard so much louder when there are no walls, the wind chill can be felt much deeper when there is nothing stopping it, and the sun can beat down much harder when there is no barrier blocking it. Oh, and one more thing, you've basically sent out a megaphone message to the enemy that he's invited in whenever he wants. Sounds ludicrous doesn't it? Think of the effect this kind of behavior would have on this woman's husband and children, as well as herself—devastating. But you know what, we all have done it in some way or another. As mentioned above with the picture of plucking a chicken, there are two ways that a housewife can pluck her house down. The first process is slower and more subtle while the second process is faster and quite obvious, which we hinted at above. The slower, subtle process is brought about simply through neglect. I think that a housewife can pluck down her house by actually doing nothing at all! "How," you say? The same way an old, rundown house gets to the state it's in. No one saw the importance to fix the leaking roof the proper way, no one cared to reattach the piece of siding hanging off the side, no one saw the need to repair the cracked foundation on the corner, no one cared to look into the reason the porch is sagging, no one wanted to put forth the effort to pull the weeds in the flower beds, no one thought it was necessary to fix the seeping pipes under the sink, and the list could go on. These types of houses are the ones that you find duct tape sticking off of things, the wrong screws and nails in the wrong places holding things up, buckets for catching water, patch jobs done the wrong way, etc. Do you see what I'm saying here? These are all problems that "something" has been done about, but it didn't last because it was done the cheap, easy way, which is no way at all. In the long run, these "fixes" end up hurting more than they help.
"A slothful man hideth his hand in his bosom, and will not so much as bring it to his mouth again."Proverbs 19:24
"Slothfulness casteth into a deep sleep; and an idle soul shall suffer hunger."Proverbs 19:15
"The sluggard will not plow by reason of the cold; therefore shall he beg in harvest, and have nothing."Proverbs 20:4
"The thoughts of the diligent tend only to plenteousness; but of every one that is hasty only to want."Proverbs 21:5
A woman who doesn't care to do her job correctly is a woman who doesn't care about anyone but herself, and that is a foolish, plucking woman. She doesn't meet the needs of her husband, because she's too busy meeting her own wants, I mean, needs. She doesn't care for the children properly because she's caring too much about herself. She doesn't have time to clean the house because she's too busy being out and about doing the things she wants to do. She doesn't want to trouble herself by taking the extra time to deal with Johnny's bad attitude properly or to teach Susie how to ask nicely. Oh, she wants a house to come home to, a place that is secure, a place that's warm and inviting, a place of comfort and rest, a place that is clean and furnished, a place that has a pantry full of food, kids that are well-behaved, etc., but she just doesn't see that it's her job. She doesn't realize that if the house is dirty, the laundry isn't done, there's no food in the cupboards, and there's tons of dishes in the sink, it's her fault. No, it's everyone else's fault. He can wash his own laundry and pick up after himself, he can carry his dirty dishes to the sink and wash them himself, he can scrub the mud out of the carpets that he tracked in on his boots, he can fix his own food the way he likes it, he can help out with the kids because they're his, too, etc. etc. etc! This woman's perspective is that she's a victim and life has dealt her a hard hand.
"A virtuous woman is a crown to her husband: but she that maketh ashamed is as rottenness in his bones."Proverbs 12:4
"He that loveth pleasure shall be a poor man: he that loveth wine and oil shall not be rich."Proverbs 21:17
"There is treasure to be desired and oil in the dwelling of the wise; but a foolish man spendeth it up."Proverbs 21:20
This kind of woman has no plan but just to get through another dismal day of being a slave to her own house. She doesn't need to change, everybody else does. Everybody else needs to get their act together so she can live a happy life. Proverbs 12:4 says "she that MAKETH ashamed." Making something requires active participation. A run-down, filthy shack just doesn't happen to get that way. No, choices were made that reduced it to its current state. Just the same is the foolish, plucking woman—she made choices all along the way! Choices that include the motto "just do enough to get by!" This woman's relationship with her husband and children will be strained to say the least. Can you imagine the spiritual implications that result from this foolish, plucking woman's influence on her family, and even herself? Watching Momma demolish the house would have a lasting impact on any child! The damage that a plucking woman can have on her household, either neglectfully or purposefully and both physically and spiritually, is quite disastrous and can be long-lasting.
"The foolishness of man perverteth his way: and his heart fretteth against the LORD."Proverbs 19:3
"A foolish woman is clamorous: she is simple, and knoweth nothing."Proverbs 9:13
"As a jewel of gold in a swine's snout, so is a fair woman which is without discretion."Proverbs 11:22
"Delight is not seemly for a fool…"Proverbs 19:10a
Whew, seems rather discouraging, huh? Well, it doesn't have to be this way! There is another option. None of us are forever destined to be the foolish, plucking woman, even though that is what we are naturally at heart. God has given us a choice, but truly that choice is only for His children. If you are not one of His, then you need to first repent and submit to His control in your life before you will ever be able to climb out of the pit of being the foolish woman!
"The house of the wicked shall be overthrown: but the tabernacle of the upright shall flourish."Proverbs 14:11
This other option is the wise builder. We looked previously at the definition of a builder being one who constructs edifices for use and one who strengthens, establishes, and preserves. The builder understands how to do her job because she has put forth the time and effort to learn. She has also first spent the time pouring over the blueprint and has it on hand at all times to quick-reference as she goes. She has gathered all the necessary and proper tools for the job at hand. Now she is ready to begin building! She is faithful and consistent to do each task properly so in the end she has a well-built house. The cement is poured and set, the frame is up, the wires and pipes installed, the walls completed, the windows framed, the floors laid, the doors hung, the cabinets in, etc. Each of these jobs are not quick and easy jobs. They actually take a lot of time and patience! And you know what? Even though the house gets completely finished, the wise, building woman is never done building. "Wait, what?! You mean there's no end!?" Nope! Well…Heaven. Heaven would be the end! And you might say, "But the house is done! What else is there to build?" Remember those run-down houses that are created by the foolish, plucking woman? They all didn't start out as run-down houses. They started out just like the wise building woman's brand, new house. The difference is that the foolish, plucking woman doesn't keep up her house and the wise, building woman stays on top of every crack, leak, and weed! The wise woman is building her home ALL THE TIME! She never just does enough to get by, but plans for the needed time to get the job done right.
Who can find a virtuous woman? for her price is far above rubies. The heart of her husband doth safely trust in her, so that he shall have no need of spoil. She will do him good and not evil all the days of her life.
She seeketh wool, and flax, and worketh willingly with her hands. She is like the merchants' ships; she bringeth her food from afar. She riseth also while it is yet night, and giveth meat to her household, and a portion to her maidens. She considereth a field, and buyeth it: with the fruit of her hands she planteth a vineyard. She girdeth her loins with strength, and strengtheneth her arms. She perceiveth that her merchandise is good: her candle goeth not out by night. She layeth her hands to the spindle, and her hands hold the distaff.
She stretcheth out her hand to the poor; yea, she reacheth forth her hands to the needy. She is not afraid of the snow for her household: for all her household are clothed with scarlet. She maketh herself coverings of tapestry; her clothing is silk and purple. Her husband is known in the gates, when he sitteth among the elders of the land. She maketh fine linen, and selleth it; and delivereth girdles unto the merchant.
Strength and honour are her clothing; and she shall rejoice in time to come. She openeth her mouth with wisdom; and in her tongue is the law of kindness. She looketh well to the ways of her household, and eateth not the bread of idleness.
Her children arise up, and call her blessed; her husband also, and he praiseth her. Many daughters have done virtuously, but thou excellest them all. Favour is deceitful, and beauty is vain: but a woman that feareth the LORD, she shall be praised. Give her of the fruit of her hands; and let her own works praise her in the gates.
The wise woman knows her job. She knows what she is supposed to be doing, how to do it, what tools to use, and she enjoys it. Her perspective is one of pleasing her Heavenly Father, The One Who called her to this job in the first place, as well as pleasing her husband and children by giving them a nice, clean, comfortable, secure place to live. A family can thrive when the home is a place of safe refuge! You might counter, "But how does she know all this? How can she stand to do the same-old mundane tasks every single day!?" The answer--it's all in the Blueprint. The Blueprint of God's Word. It doesn't change, so she knows if she does it according to the proper instructions given, it will come out just as the Blueprint shows! She has studied the Blueprint over and over; she keeps the Blueprint close at hand; she reminds herself of what the Blueprint says when she doubts the proper method.
"And he said unto me, My grace is sufficient for thee: for my strength is made perfect in weakness."1 Corinthians 12:9a
"…as thy days, so shall thy strength be."Deuteronomy 33:25b
Day by day, and with each passing moment,
Strength I find to meet my trials here;
Trusting in my Father's wise bestowment,
I've no cause for worry or for fear.
He whose heart is kind beyond all measure,
Gives unto each day what He deems best,
Lovingly it's part of pain and pleasure,
Mingling toil with peace and rest.

Every day the Lord Himself is near me,
With a special mercy for each hour;
All my cares He fain would bear and cheer me,
He whose Name is Counsellor and Pow'r.
The protection of His child and treasure
Is a charge that on Himself He laid;
"As thy days, thy strength shall be in measure,"
This the pledge to me He made.

Help me then in every tribulation,
So to trust Thy promises, O Lord,
That I lose not faith's sweet consolation,
Offered me within Thy holy Word.
Help me, Lord, when toil and trouble meeting,
E'er to take, as from a father's hand,
One by one, the days, the moments fleeting,
Till with Christ the Lord I stand.



Something else that the wise, building woman does is she gives priority to the most important tasks. For example, you can't put the light fixtures up until the power is installed. Just like you can't expect Susie to be sweetly obedient when you haven't communicated fully what you are expecting her to do. It's just as foolish to set up the furniture on unfinished floors as it is to allow your impressionable teenager to go out with friends until they have a foundation for what they believe and why. Putting pretty-colored paint on a wall with a gaping hole in the middle is just as ludicrous as getting yourself ready in the morning without spending time with God. Taking the extra time to start your day off right in God's Word, to wash the dishes before bed, to discipline Johnny in love, to iron all those shirts, to cuddle one more time with Susie before naptime, to clean up the toys, and fold up that pile of laundry so your husband has a tidy house to come home to, is all worth it!
"By humility and the fear of the LORD are riches, and honour, and life."Proverbs 22:4
"House and riches are the inheritance of fathers: and a prudent wife is from the LORD."Proverbs 19:14
God has given each of us His Blueprint and all the tools we need for every single day to be a wise, building woman. But the choice is up to us of how we use what we have been given. Hold tight to the Unchanging Blueprint and you are sure to find yourself in the blessings of the wise, building woman!
"Except the LORD build the house, they labour in vain that build it: except the LORD keep the city, the watchman waketh but in vain."Psalm 127:1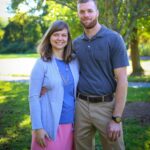 Megan was born and raised in mid-Missouri in a Christian home. At the age of 16, she accepted Christ as her Lord and Savior and has been growing in Him ever since! Megan moved out to Pennsylvania in 2017 after she met and married the man of her dreams, Samuel Hammett. She is currently serving alongside him at LVBC. God is growing and stretching her as she learns God's purpose for her in this stage of life. Read my story here.