Last time I wrote, we were experiencing cool season to the fullest. Now we are in the midst of hot season, once again providing us with a good reason to be grateful for air conditioners and swimming pools! Along with hot season comes burning season, but I'm so thankful this year isn't as intense as last year. A few years ago, a friend gave us an air purifier machine and that has definitely been a big help!
After three years of living in Thailand, we finally decided to make the drive to the Gulf of Thailand, enjoying a 5-day stay at a missionary retreat center. All of our meals and laundry were taken care of, leaving us to enjoy the beach in the backyard – quite literally. Paul and Ellie were not as fond of the water as we were, and Ellie even dubbed it the naughty water. The pool quickly became known as the nice water. All in all, we greatly enjoyed our stay. Next time we think we'll skip the 16-hour drive and instead fly down. What a blessing to live in a country where domestic tickets are inexpensive.
---
---
After 13 days on the road, including seeing three missionary families along the way, we returned to Mae Sai…. only to find out we needed to turn around and go to Chiang Mai for a visa paperwork meeting. While Nat was at his meeting, the kids and I were heading to a friend's house when I decided to stop and grab some water from 7-Eleven. Two young girls on a motorcycle didn't see my turn signal and ran right into the side of the truck. We spent the majority of the day at the hospital and the police station, trying to resolve the situation. Gratefully the girls weren't severely injured and our insurance adjustor really went to bat for us. Talk about a new experience!
We had great opportunities to do bible studies, evangelism, and tract distribution throughout the month of March.
As we shared in the grief with my family, I'm thankful for the opportunity to see all my siblings again. We are spread out all over, but it was a time to meet together and grieve together. It was also a blessing to be in three services at our home church. Even though we were just in the States 7 months ago, we cherish and value the time to spend with our church family.
Towards the end of March, we were greatly anticipating a visit from our Pastor and a friend from church when we received a phone call from our Pastor the day before his trip, postponing his trip because my 20-year-old nephew passed away. Nat and I immediately made plans to return to the States for a week to be with my family. Paul and Ellie stayed in Thailand with friends, and I'm glad they didn't make the trip with us. Jet lag is certainly no fun, and our kids really can't understand at this age the struggles of jet lag.
We returned home April 2 and the joy on Paul and Ellie's faces was priceless! Special thanks to the Halls for watching our children while we were away.
While the ladies were here, we had the opportunity of doing our first English Camp up in the mountains. It's always fun teaching English and using Thai/hand signals to fill in the English-learning gaps. We loved it, the kids enjoyed it, and Ellie especially was a big hit with all the students.
---
Three days after we arrived in Thailand, two ladies from our home church followed us! This was a previously planned visit, so all of us enjoyed struggling through jet lag together. Donna Ossman and Eliza Rogers jumped right into our family and ministry and our kids are still talking about their visit! Both ladies are already talking about their next visit. In fact, Eliza was our first repeat visitor!
On the home front we are slowly adjusting back to routine after 8 weeks of schedule changes. A friend of mine once said, "Plans are made to be broken" and that has proven itself to be true time and time again!
Tomorrow (Tuesday May 2nd) our family will go to Chiang Mai to renew our 1-year visas on Wednesday. It's a tradition to spend Ellie's birthday week at immigration.  I'm sure once we get those visas, we will head to our favorite restaurant in Chiang Mai (The Duke's) to celebrate – both the visas and Ellie's 3rd birthday! I'm not quite sure how this little lady got to be three already, but here we are. I have been setting aside all the cards and gifts that have come in for her, and can't wait to watch her expression as she opens them all up!
We love you all and we are thankful for each one of you. God bless!
Anne Williams
As Donna and Eliza were at the Chiang Mai airport waiting to fly out, our Pastor and Titus Hall were landing in Bangkok. We had just enough time to wash the guest room sheets before switching visitors. Realizing that life is incredibly busy back home, we're so thankful our Pastor took the time to come for a visit. What a great encouragement to see him take part in Bible studies and to participate in our lives here. The men safely arrived back in the States this past Saturday.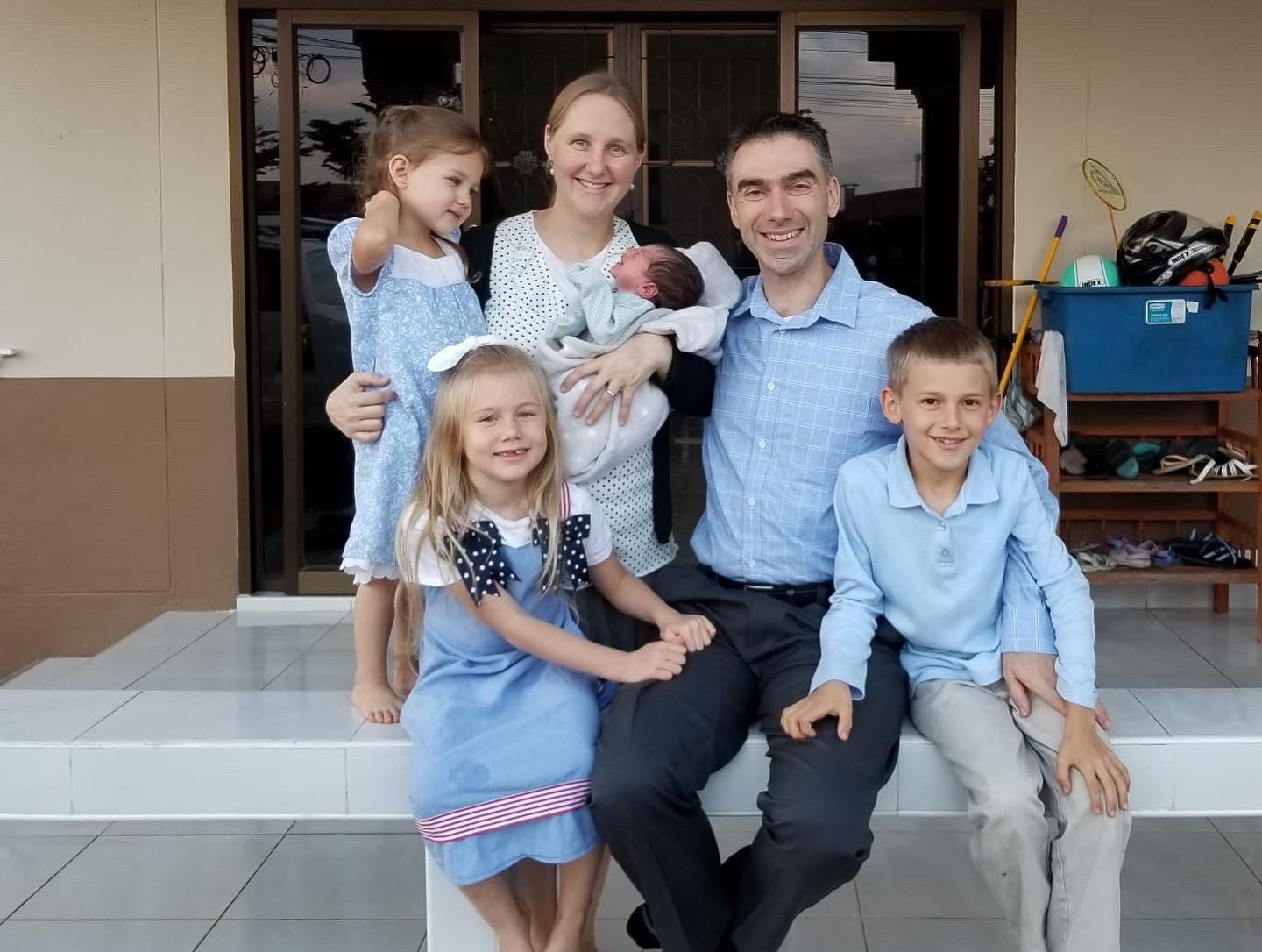 Living in Thailand is a daily adventure for Anne Williams and her family of six. In between all of the many language blunders, running after toddlers, and giving the neighbors plenty to smile at, she is grateful God's grace is always available just when she needs it.
Read more about their ministry here and watch her testimony here.